Luxury Self Catering Cork Ireland
Hydrotherapy (warm water massage) has been recognised as a form of physical therapy for centuries. Specifically designed jets massage neck, shoulders, back and feet, melting away the stress and tension of every day life. Warm water relaxation with your partner, children or friends encourages relaxed conversations and good humour which makes for an extra special luxury self catering holiday or mini break.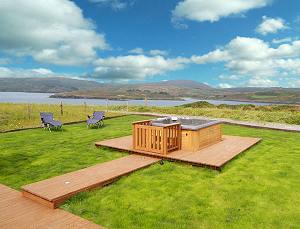 The breathtaking sea views of Lough Hyne, the Baltimore Peninsula and Kedge Rocks enjoyed by Trag Retreat provide the perfect backdrop to experience hydrotherapy. The hot tub is easily accessed from the self catering cottage over a cedarwood platform extending from the expansive outdoor deck (which can be subtlety lit by night). You and your companions can enjoy yourself in complete privacy (save perhaps the odd passing sailboat!).
Luxury Cottage Cork Ireland
The sensation of stepping into hot tub, sinking in to the bubbling water ( a glass of wine in hand!) looking at the stars and smelling the sea is a holiday experience few can match. On a cold winter's night plunging into the warm water (the temperature of the water can be set to your own requirements) in this idyllic setting starts the perfect weekend wind down.
The generous sized double pump hot tub can accommodate six people and has proven to be extremely popular with both couples and families alike. Detailed decking lighting further sets the ambiance !!
Go on. Treat yourself to the luxury self catering holiday of your dreams !