Historical Sites Ireland
Historical Sites in West Cork
Skibbereen
· Skibbereen Heritage Centre, featuring the Great Famine Commemoration Exhibition and the Lough Hyne Visitor Centre
· The Skibbereen Trail, self-guided tour offering an overview of the town during the Great Famine
Cape Clear Island
· Prehistoric monuments, megalithic standing stones, a 5000 year-old passage grave, a 12th century church ruin, and a 14th century O'Driscoll castle cannonaded in the early 1600's
Mizen Head
· Mizen Vision Signal Station Visitor Centre,
Glandore
· Drombeg Stone Circle, 17 standing stones dating back to around 150 BC, a popular spot for Winter Solstice when at sunset the sun's rays fall directly on the altar stone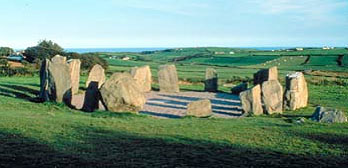 Rosscarbery
· Castle Salem
· Michael Collins Memorial Centre, site of Michael Collins birthplace, located in
Woodfield (between Clonakilty & Rosscarbery)
· Rosscarbery & District Historical Society
Sherkin Island
· 15th Century Franciscan Friary & ruins of O'Driscoll Castle, Dun-na-Long
Union Hall
· Ceim Hill Museum, a 500 year old farm house with an open hearth. The private collection housed here has artefacts from Neolithic times, Old and New Stone Age, Bronze and Iron Ages. The visitor can see old farm tools as well as lace, linen and West Cork cloaks. For history enthusiasts there is a "War of Independence" room.
Ballydehob
· Gurtnagrough Folk Museum, open daily
Bantry
· 1796 French Armada Exhibition

---