Fishing Holidays Cork
Beside fishing from the shores or off a boat from Trag Retreat itself,
there is a variety of fishing opportunities within a 30 minute drive.
Tragumna and Tralispeen are two small beaches with rocks at either side. In the deeper water from the rocks, pollack can be caught, with mackerel present in late summer. Flatfish are possible, with a chance of bass, especially at Tralispeen.
Chartered Angling Fishing Trips
Within 5 minutes of Trag retreat is Trag Bay charters where you can charter a boat with Gene (an extremely experienced skipper with over 25 years of deep sea fishing in South West Ireland ) and Mary McCarthy with their Fully Licensed 35ft Offshore 105 boat with its 320 HP IVECO offer the angling enthusiast a truly memorable experience.
The area is renowned for its species of fish like Pollack, Conger, Ling, Cod, Coalfish, Bull Huss, Turbot, Bream and Ballan Wrasse. Anglers regularly land huge Common Skate weighing in excess of 100 pounds (45Kg). In the warmer months Blue Shark are plentiful. There is also a chance of unusual species like Stone Basse or Six-Gilled Shark.
Visit: Trag Bay Angling and Diving Charter
15 minute drive from Trag retreat is Fastnet Charters based at Baltimore
Fastnet Charters with Nick Dent; wreck fishing, reef fishing and shark fishing on fast sea angling boat Rooster; also available for diving, bird watching and whale watching.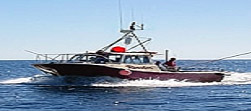 Sea Angling West Cork Ireland
Bathed in the warm waters of the North Atlantic Drift (an offshoot of the Gulf Stream) Ireland's southwest region is an undiscovered paradise for sea angling. With more than 1000km. of coastline, over 33 species of fish and a mild climate and excellent facilities the southwest is truly the place to visit.
The region's coastline is varied from magnificent sweeping bays, to rugged inlets to wide estuaries. Five huge headlands jut out into the deep waters of the Atlantic Ocean and warm water species such as blue shark and bass can be caught. Of course the cooler water species such as cod, coalfish and porbeagle are also an offer Shore angling in the region is certainly some of the best in Western Europe but also under populated, its not unusual to spend a week fishing in the more remote areas without seeing another angler.
O Neills Angling
Gerald O'Neill offers excellent sea fishing and scenic coastal trips from the picturesque harbours of Glandore and Union Hall, south-west Ireland. The area is well sheltered from the prevailing westerly winds, thereby ensuring a mild and enjoyable fishing climate and abundant sea life.
The waters off Union Hall and Glandore are clean and unspoilt - ideal for sea angling.
Boat Hire West Cork Ireland
Baltimore
Athlantic Boat Services are pleased to bring you the opportunity to explore and enjoy the beautiful waterways, islands, and beaches of West Cork at your own pace. Situated on the quayside in Baltimore, Co. Cork they operate a safe and accessible facility.
Game Fishing West Cork Ireland
Ilen River "The Ilen gets a good run of spring salmon and grilse and an excellent run of sea trout. The first spring fish enter the river in March and it is worth fishing from the 20th of March. The main run is in April and May. The average size of spring fish is 10 lb. The first run of grilse coincides with the first flood in June and they continue to run through July and August. Access to fishing is good." The season: 1 February to 30 September (salmon); 1 February to 12 October (sea trout).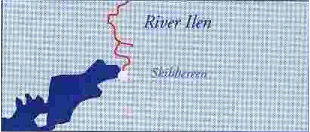 Salmon
Spring Salmon begin to move into the river during March. The main runs of Salmon occur in April, May, June. From June continuing on through July, August and September there are steady runs of grilse known locally as peal. In August and September the Autumn Salmon appear. Salmon average about 8-10 lbs (4 kgs) and grilse 4-5 lbs (2 kgs). Salmon at 10-15 lbs (5-7kgs) are not uncommon and larger fish up to 21 lbs(10kgs) have been taken. As with sea-trout, the best runs and fishing is when the river is in pate and the Spring tides are on.
Sea-Trout
Runs of sea-trout into this river have remained steady over recent years. They begin to move into the lower beats during March. During April, May and June there are runs of fish averaging about 2 lbs(1 kg) with some up to 4 lbs (1.8 kgs). July, August, and September sees the run of 'juniors' as they are known locally, fish averaging 1 lb (.4 kgs) with superb fighting qualities.
Methods
For Salmon and Grilse, spinning and worming is favoured by local anglers. On some stretches and following a spate, the fly can be very effective. The use of prawn and shrimp is not permitted. Worm fishing begins on March 1 st until September 30th.
During the day sea-trout are taken on light tackle with worm and small spinners. The fly is most effective on a windy day. However, the cream of sea-trout fishing is with the fly from dusk onwards. There is a great variety of suitable pools and no restrictions as to night fishing are imposed on visitors.
Freedom To Wander
· Angling on the River Ilen has its own special charm. The river has great variety and beauty. Not confined to beats, the angler can relax and wander freely, surrounded by nature. Sightings of heron, duck, kingfishers, various song birds, bats, mink and otters are quite common, and the fox and badger are never far away.
· The Argideen River (Clonakilty), 40 minute drive - "The Argideen is primarily regarded as a sea trout fishery. A maximum of 6 rods are allowed per day and 20 by night. Anglers wishing to fish at night meet at the Inchy Bridge half an hour before dark where a draw for pools takes place." The season: 15 February to 12 October (sea trout and brown trout); 15 February to 30 September (salmon).
Managed Community Trout Fisheries:
· Shepperton Lakes (Skibbereen), 15 minute drive - "Located in a scenic wooded area. 3 miles east from Skibbereen, West Cork, beside the road to Leap. Located in a scenic wooded area. The lake is mainly deep (to 40 ft.) with narrow, shallow, margins. Attractive shore angling sites off by-road at eastern end of lake and boats are available for hire. The lake holds a good stock of wild, native Brown Trout and Rainbow Trout are stocked regularly to maintain a high stock density and give worth-while angling returns. Small Eels, Rudd and occasional Pike are also present. Recommended angling methods include artificial flies best fished from a boat - worms (using a float) or a small spinne
· Driminidy Lake (Drimoleague), 20 minute drive - "The surrounding land is level and boggy with water-lilies abundant off the lake's margins. Attractive shore angling sites have been created and the lake holds above average sized wild native Brown Trout. Adult Rainbow Trout are regularly stocked to maintain a high stock density and give worthwhile angling returns."
· Lough Bofinne (Bantry), 30 minute drive - "An attractive, convenient, 25 acre, clear water lake. A unique location, because two roads fringe 75% of the lake's margin, creating exceptional shore angling facilities. Boats are available if required. An excellent stock of Rainbow Trout and some Brown Trout are present, and the lake is restocked regularly with adult Rainbow Trout to maintain a high stock density, and to give satisfactory angling returns. Occasional Pike, Perch, Eels and Rudd are also present."
· Schull Reservoir (Schull), 30 minute drive - "This 5 acre, clear water mountain reservoir in scenic rugged terrain, overlooks Schull Harbour. A 100 yards solid path leads from car park to an ideal angling shoreline. Mainly shallow with a maximum depth of 18 feet, the fishery holds a good stock of small native Brown Trout and an excellent stock of Rainbow Trout, some small Eels and Rudd. Adult Rainbow Trout are stocked regularly to maintain a high stock density and to give satisfactory angling returns."
Details above from
South Western Regional Fisheries Board

---